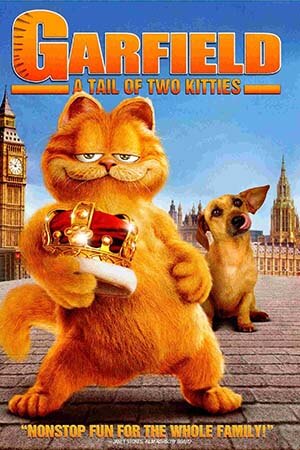 Chú Mèo Garfield 2
Chú Mèo Garfield 2
Phim Hai Chú Mèo Siêu Quậy - Garfield 2: A Tail of Two Kitties, trong chuyến du lịch đến Anh quốc cùng cậu chủ Jon của mình, Garfield đã bị lầm lẫn với một chú mèo hoàng tộc đang được thừa hưởng một tòa lâu đài. Sau khi được cung phụng như ông hoàng, Garfield phải đối mặt với tay lãnh chúa xấu xa Dargis với âm mưu muốn biến tòa lâu đài thành một khu nghỉ mát để sinh lợi cho hắn. Liệu phim sẽ diễn biến thế nào mời các bạn cùng theo dõi bộ phim Hai Chú Mèo Siêu Quậy.
Genre: Adventure , Animation , Comedy , Family , Phụ Đề
Actor: Billy Connolly , Bill Murray , Jennifer Love Hewitt , Ian Abercrombie , Breckin Meyer , Tim Curry , Roger Rees , Lucy Davis , Lena Cardwell , Veronica Alicino , Jane Carr , Oliver Muirhead , J B Blanc , Vernee WatsonJohnson , Russell Milton , Ben Falcone , Greg Ellis , Bob Hoskins , Sharon Osbourne , Melanie Tolbert , Sbastien Cauet
Director: Tim Hill
Writer: Joel Cohen , Alec Sokolow , Jim Davis
Country: United States of America , United Kingdom
Release: 2006-06-15
Duration: 86 Phút
Quality: HD Phụ Đề
Rating: 9
5.3

loading...